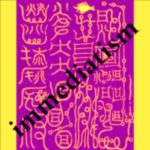 This essay is found on Ramon's blog, The Tiger's Leap. I'm doing this episode in celebration that their first book is coming out Winter 2021. Follow link below to pre-order your copy. I'm getting mine!
Why Primitivism at The Tiger's Leap
Essays From the Tiger's Leap at LittleBlackCart.com
Also, see episodes 37-40 of Immediatism for more Ramon Elani!
My other podcast PointingTexts.org
Feedback and requests to Cory@Immediatism.com